On the occasion of the event "Destinations on the rise – 2019 – Montenegro" held in Vienna on 15 May, Austrian magazine, Die Presse, published eight-page special supplement dedicated to Montenegro.
The event was attended by the Vice-President of the Government for Economic and Financial System, Mr Milutin Simović, and economic delegation headed by the President of the Chamber of Commerce, Mr Vlastimir Golubović.
Front page of the supplement features the interview with Mr Simović entitled "Our objective: the EU".
Mr Simović pointed out that Montenegro has already achieved one of its priority objectives – NATO membership.
On the way to achieving the next important objective, the EU membership, the priority is to adopt and apply European standards. In other words, quality of the implementation of the European legislation is more important than the date of accession.
Furthermore, Mr Simović pointed out that sustainable economic growth that will raise the standard of living and reduce the development gap in relation to the EU average was our strategic objective.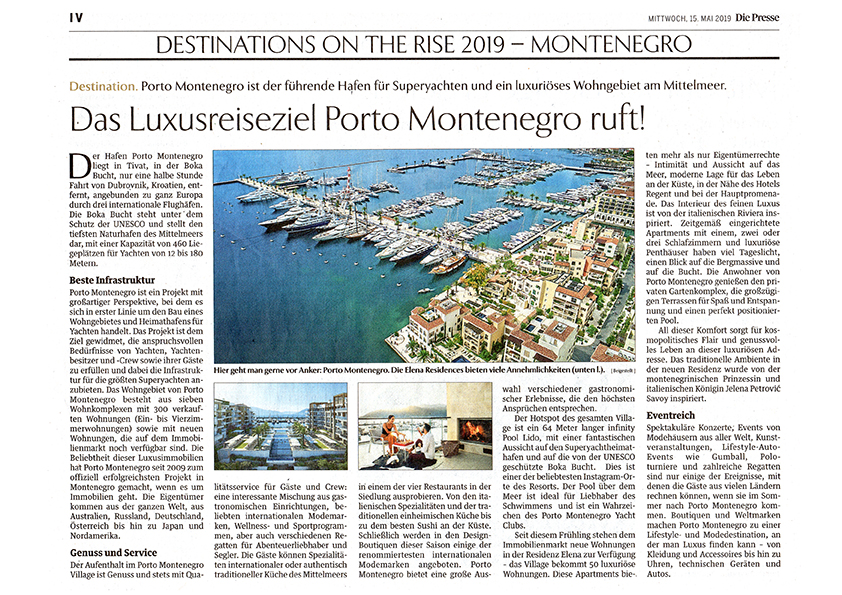 Asked about the cooperation with Austria and the support Montenegro is expecting, Mr Simović said that Austria was one of the most important foreign policy partners of Montenegro.
"Cooperation in the area of economy opens many possibilities because, in the economic context, Austria is connected to the other EU economies, Germany in particular. We are grateful that Austria is supporting the European course of Montenegro and that it really appreciates the progress we've made so far", said Mr Simović.
As for the economic development, Mr Simović pointed out that real GDP growth in 2017 amounted 4,7%. In 2019, it amounted 4,9%.
"That comes as no surprise, since it's the result of clear, decisive and smart economic policy", said Mr Simović.
He also spoke about the key infrastructure and capital projects while stressing that Montenegro has circled its security framework with NATO membership.
"Why did I point this out? Capital, investments and market economy require security, long-term safety and sustainability. Foreign investors have recognized that in Montenegro and that's why we have investors from 130 world states", said Mr Simović.
He pointed out that our main trumps are investment environment, policy of attracting foreign investments, results achieved so far and quality increase of total economic performances.
"We want people to talk about us. The best example is the current event where we will be presenting successful projects as a result of FDI, such as luxurious resorts Porto Montenegro and Luštica Bay. They are the best example of successful use of the possibilities Montenegro has to offer", said Mr Simović.
The special supplement is intended for the Austrian market.