At the Sedona Forum in Arizona, Montenegro's President Milo Djukanović touched on the historical role the United States of America had played on the Western Balkans in the 1990s and emphasized the importance of holding the U.S. attention on the region, along with the European Union's.
He also pointed out to growing challenges referring to the Euro-Atlantic Partnership nowadays, as well as to its [Euro-Atlantism] importance for the USA, Europe and the whole world. In this context, President Djukanović called for all the countries to be decisive in defending the Euro-Atlantic system of values.
Mr Djukanović was a speaker on the panel named 'Why is the American Leadership (Still) Important?' while the former Arizona Sen. Jeff Flake had the introductory speech at the same panel.
Beside President Djukanović, the panelists were John C. Rood, the Under Secretary of Defense for Policy within the Department for Defense and Sen. Sheldon Whitehouse from Rhode Island. Ex-senator Kelly Ayotte from New Hampshire moderated the panel discussion.
After the discussion, President Djukanović awarded a posthumous Montenegrin star medal of the first degree to the wife of Sen. John McCain, Cindy, for his extraordinary contribution to the Montenegrin independence and achieving the key foreign policy priorities of our country, i.e. NATO membership.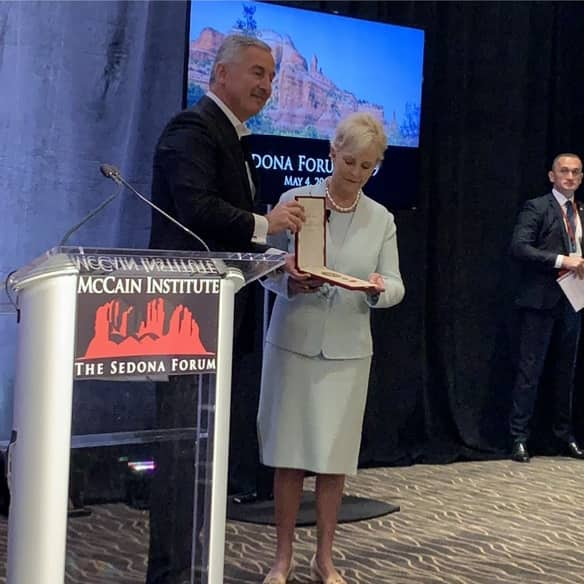 President Djukanović, inter alia, reminded of the words of Sen. McCain who had said the Montenegrin independence referendum was maybe the most significant democratic project in Europe after the fall of the Berlin Wall.
"He encouraged us to be a role model for the countries of the region and to keep promoting the ideals of Western civilization, as well as the transatlantic values," said President Djukanović.
Ms McCain thanked President Djukanović for remembering Sen. McCain and stressed the fact that he used to be a great friend and supporter of Montenegro and its citizens.