"Blessed people of Montenegro, today I'm announcing final names of the people in the future government", Mr Zdravko Krivokapić said to Montenegrin public.
"Mr Dritan Abazović was nominated for the Vice-president of the Government. Candidates for ministers are: Minister of Defense – Ms Olivera Injac, Minister of Interior – Mr Sergej Sekulović, Minister of Foreign Affairs – Mr Đorđe Radulović, Minister of Finance and Social Welfare – Mr Milojko Spaić, Minister of Education, Culture, Science and Sport – Ms Vesna Bratić, Minister of Health – Mrs Jelena Borovinić-Bojović, Minister of Economic Development – Mr Jakov Milatović, Minister of Capital Investments – Ms Mladen Bojanić, Minister of Public Administration, Digital Society and Media, Ms Tamara Srzentić, Minister of Ecology, Urbanism and Spatial Planning – Mr Ratko Mitrović, Minister of Agriculture, Forestry and Water Management, Mr Aleksandar Stijović, Minister of Justice and Minority Rights –Mr Vladimir Leposavić", Mr Krivokapić said at the press conference.
He explained that, due to rationalization, he had opted for Mr Dritan Abazović as candidate for Vice-president of the Government.
"The Government truly wants to carry out reforms. Any competent person will be welcome in the government. This government hasn't even started and has already been harshly criticized. People were concerned more about the names than the vision of the future Montenegro. Our vision is progress and prosperity of every citizen of Montenegro. We don't want to divide", Mr Krivokapić said.
According to him, if the government achieves at least half of what they have imagined in four years, "we will get close enough to state that quality of life has become significantly different".
"This government is formed by prime minister and prime minister only. None of the hypotheses is true. If I wanted a government which consists of friends and relatives, I wouldn't belong there. None of the candidates is my relative", Mr Krivokapić pointed out.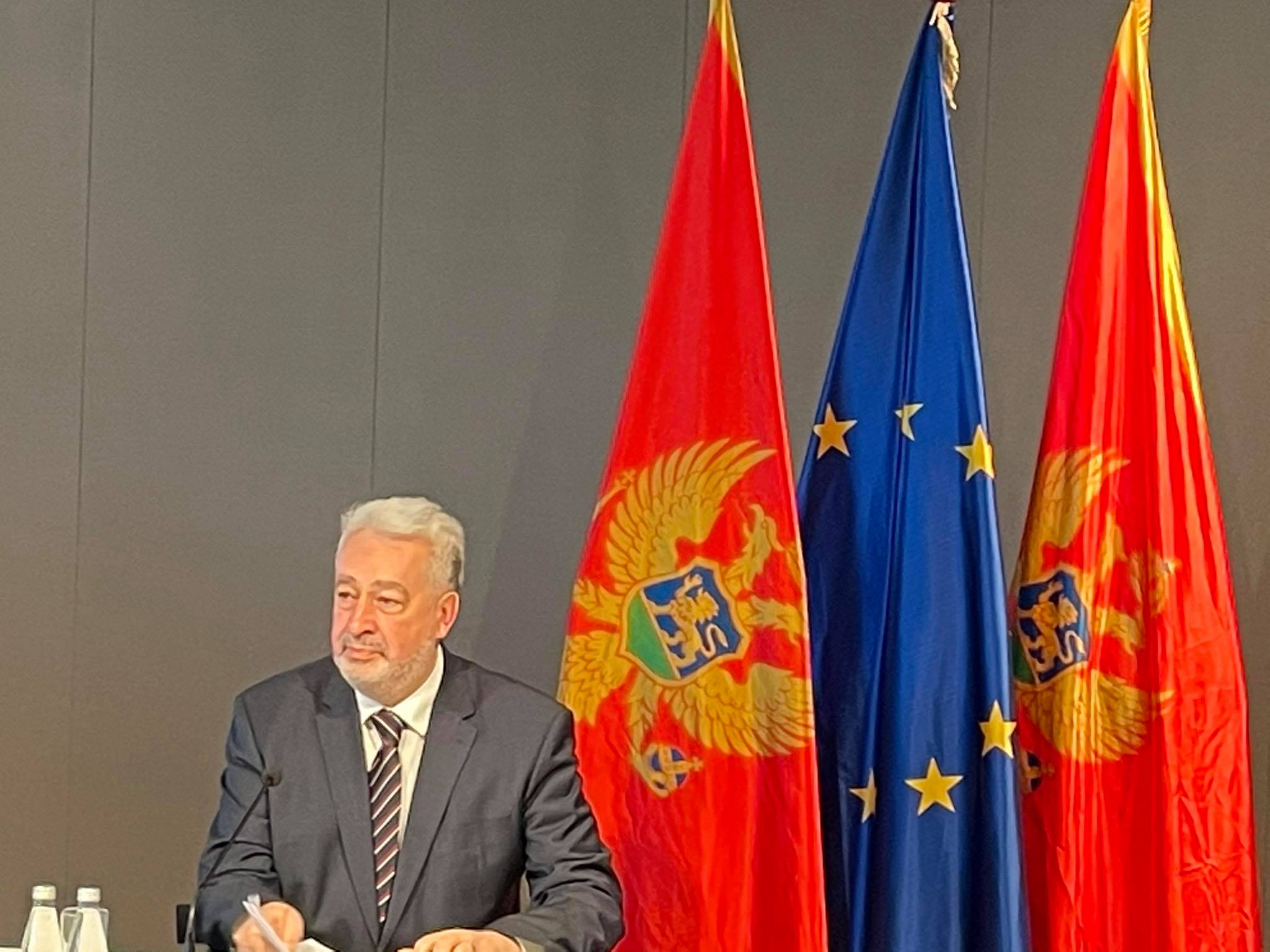 Why did prime minister-designate decide to nominate Ms Olivera Injac as minister of defense instead of Mr Goran Đurović? Mr Krivokapić answered that she is an expert in the area of security.
"Goran Đurović is a renowned name. He's a philanthropist, he's successful, a great strategist. Ms Olivera Injac is professor of security and assistant professor at the University of Donja Gorica. She is fluent in two languages and that's the measure we should note as a measure of relations to European integration. She is also recognized in Brussels. She has longtime connections with the University in Ljubljana. Profession must be taken into account. It must dominate", Mr Krivokapić said.
Why was the invitation for the conference sent by URA?
"We had a meeting last night and Mr Abazović offered to send an invitation. We didn't mind that", he said.
Mr Krivokapić doesn't remember that he talked about expert government during election campaign.
"The most important thing is that this government starts working. If you think a name is a measure, I disagree. I am probably not very knowledgeable about politics, but I'm ready to catch blackmails. I don't have any friends among candidates for ministers. I know these people but they are not my friends", he said.
How did he come by the names for the minister of interior?
"Everybody knows Mr Sergej Sekulović. He's party related to Ministry of Interior, partly to human rights and gatherings. Most importantly, he's a lawyer, oppositionist and he's clean. He has straightforward and firm opinion. That prompted me to propose him", Mr Krivokapić said.
He assures that he wants cooperation with everybody, even with DF.
"We will cooperate intensely with all heads of parliamentary clubs. This is our joint project. If we have the same objective, why would anyone cause problems? Let's just forget what happened before and focus on the future", Mr Krivokapić states.
He also claims that Montenegrin identity is indisputable.
"Four values were left as legacy to my family: respect, justice, honesty and truthfulness", he said.
Mr Krivokapić confirmed that he had talks with Ms Jovana Marović but pointed out that she is not candidate for chief negotiator.
"As far as the Agency for National Security is concerned, name of the candidate for the manager of the service deserves special attention. We have decided to direct this system to security and stability of the country", Mr Krivokapić said.
He added that they suggested formation of the staff academy in the state administration sector and set of courses.