Presidents of the Chambers of Commerce of Montenegro, Andorra, Liechtenstein, Monaco and San Marino signed today at the Economic Forum in Budva Agreement of the European Chambers of Commerce of small states, with the aim of promoting investment, trade and cultural cooperation.
Albert II, Prince of Monaco, Ministers of the Government of Montenegro, Mrs Dragica Sekulić and Mr Darko Radunović, Minister of the Interior of Monaco, Mr Patrice Cellario, President of the Montenegrin Olympic Committee Mr Dušan Simonović, as well as representatives of renowned Montenegrin companies took part in the Forum.
Many questions related to the encouragement of cooperation and stronger connection of legal entities have been discussed, as well as questions in the area of technology transfer, education, joint projects, and alike.
President of the Chamber of Commerce of Montenegro, Mr Vlastimir Golubović, said that the Forum would be a foundation for the development of tighter economic bonds among small states.
He reminded that connection of economy and sport gave excellent results.
"Historical continuity reflects the strength and determination of small states to preserve their identity. Size of a country could define the degree of economic development, but looking at today's global trends, it doesn't have to be a rule. Expansion of the service economy has enabled the majority of our countries to become sustainable and prosperous economic systems", said Mr Golubović.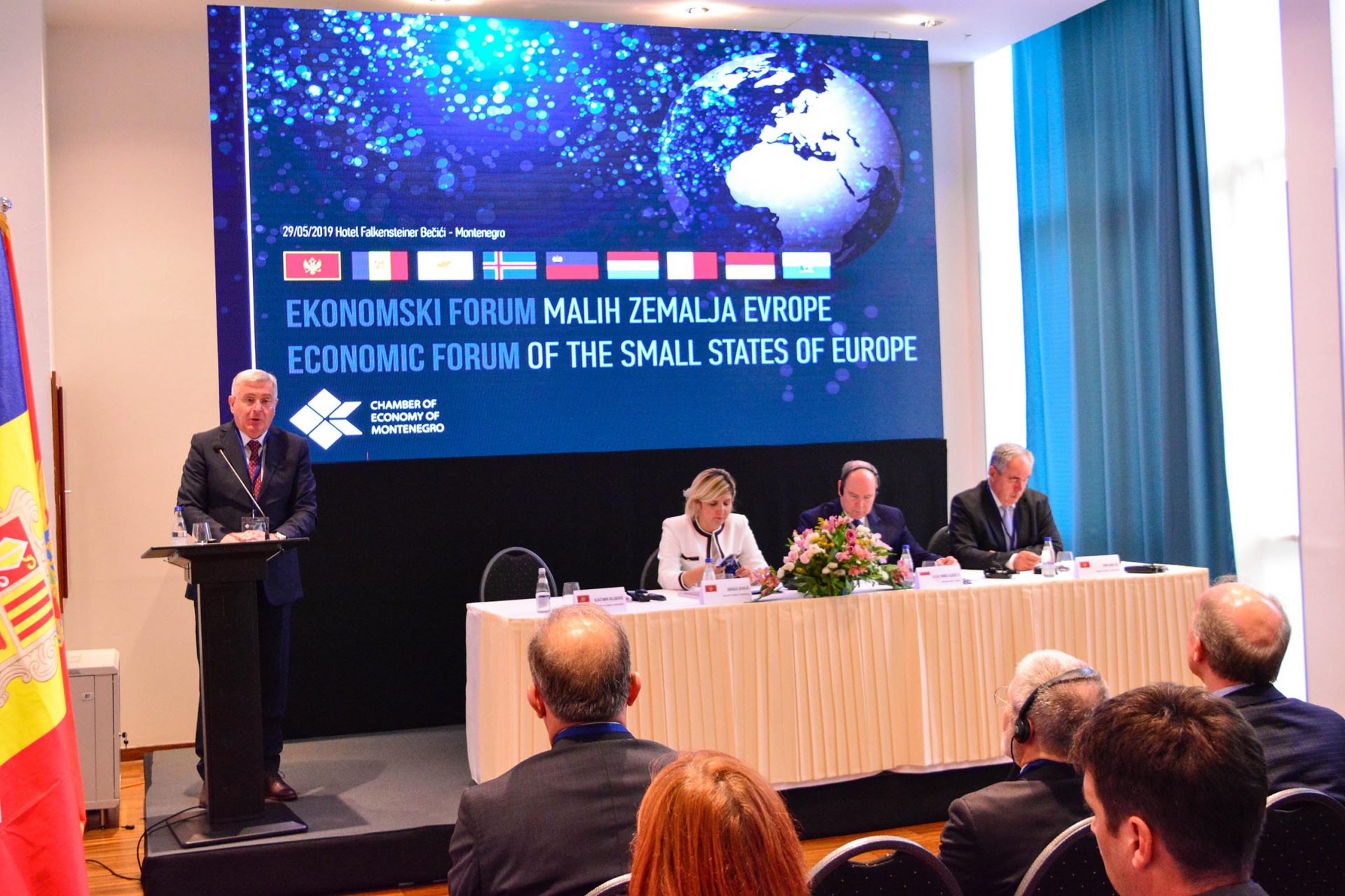 Experience that small states have is very useful for Montenegro.
"Tourism, as our common competitive advantage, deserves particular attention. This sector opens up many possibilities for investments in Montenegro", said Mr Golubović.
He spoke about the projects in tourism carried out by world-known hotel brands. He said that Montenegro was gradually becoming attractive destination for investments in the construction of marinas.
"We're slowly but surely becoming a leading cruise destination, with enormous capacities of our ports. Port in Kotor is ranked as the second top cruising destination in the world", said Mr Golubović.
North of Montenegro can also offer possibilities for cooperation in the area of tourism. Experience of Andorra, country famous for its winter and mountain tourism, can be useful for Montenegro and serve as an example of how this segment can be improved.
"Thanks to is climate and geographical location, Montenegro can definitely become recognizable destination for sport tourist offer. Synergy of tourism and sport  could be used better. We could alleviate seasonality, as one of the key challenges of our tourism. Attractive sport amenities and events are important part of the tourist image of Mediterranean destinations, such as Monaco or San Marino, and that's the kind of approach we need in Montenegro", said Mr Golubović.
Sector of financial services also offers space for cooperation. Experience of Monaco, Luxembourg and Lichtenstein can help Montenegro develop adequate environment and make financial sector more attractive.
It's interesting how those small countries managed to improve food production with the synergy of agriculture and information technologies.
According to Mr Golubović, cooperation in the area of innovation, exchange of positive practice and expertise means investing in future of the economic relationship of small states. He invited participants of the Forum to cooperate more in the development of scientific and technological parks, and in the energy sector.
Mrs Dragica Sekulić, Minister of Economy, pointed out that Montenegro provided safety to all investors and that it shared the highest values and standards of democratic countries.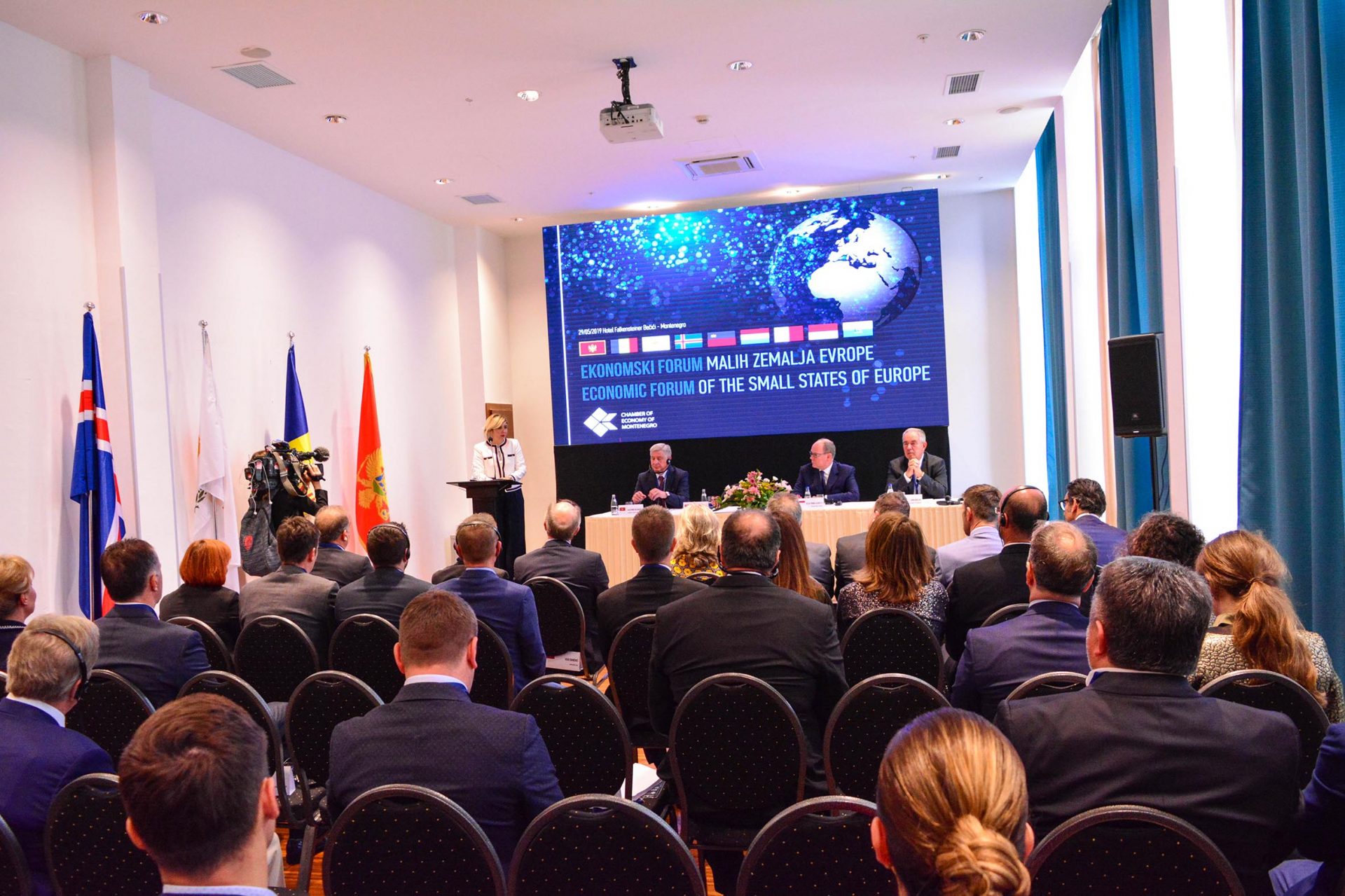 She presented macroeconomic indicators of our country.
"NATO membership greatly contributes to such successful growth, along with the increasing harmonization and compatibility with the EU internal system", said Mrs Sekulić.
Investors from over 110 world countries operate in Montenegro. Some of the most prestigious tourist brands are present in the tourism sector and we have the highest FDI rate per capita in the region.
Mrs Sekulić also spoke about the results achieved in tourism, construction of transport infrastructure while presenting economic citizenship programs. Through its continuous work, the Government of Montenegro is making our investment space more and more competitive.
"Stable tax system, with the most favorable income tax rate, short administrative procedures, stable political system make our country safe for the investors", said Mrs Sekulić.
Prince Albert II congratulated Montenegro on high-quality organization of the Games of the Small States. He said that similar events would make significant contribution to strengthening cooperation among small countries. He is convinced such cooperation is necessary.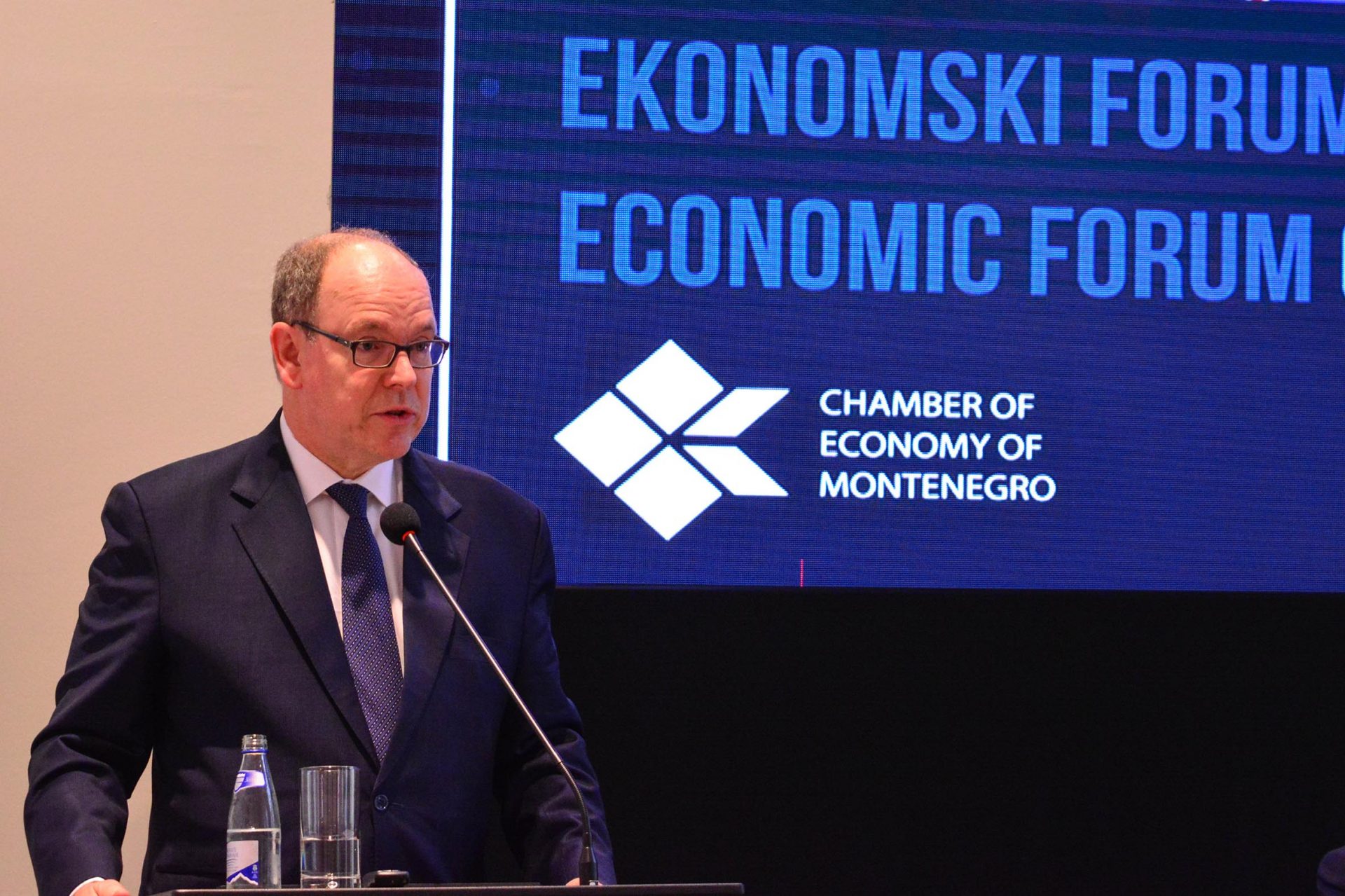 "We share specific characteristics that some people see as obstacles. We see it as advantages, though. We need to optimize our resource. We bring prosperity from direct contact and synergy with our population", said the Prince.